Share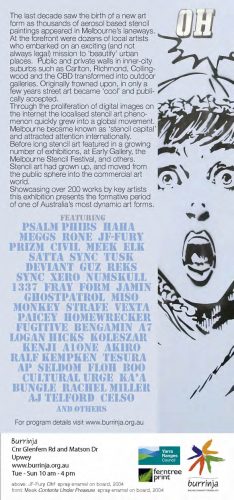 The last decade saw the rise of a new art form as aerosol based stencil paintings appeared in Melbourne's laneways from 2001. At the forefront were dozens of local artists who embarked on an exciting (and not always legal) mission to 'beautify' urban places. Thousands of stencils adorned public and private wall in laneways in Carlton, Collingwood, Richmond and the CBD.
Originally frowned upon, in only a few years 'street art' became 'cool' and publically accepted. Through the proliferation of digital images on the internet the localised stencil art phenomenon quickly grew into a global street art movement. Melbourne became known as 'stencil capital'. Subsequently, stencil art evolved from quick applications on concrete to artistically refined paintings on canvas, and moved from the street into the gallery.
Showcasing over 200 works from private collections by Australian artists including Psalm, Phibs, Haha, Meek, Meggs, Rone, Ghostpatrol, Satta among Artist from International Background ,this exhibition presents the formative period of one of Australia's most dynamic art movements.